Society of Energy Professionals (Bruce Power Local) supports Pumpkinfest
September 5, 2014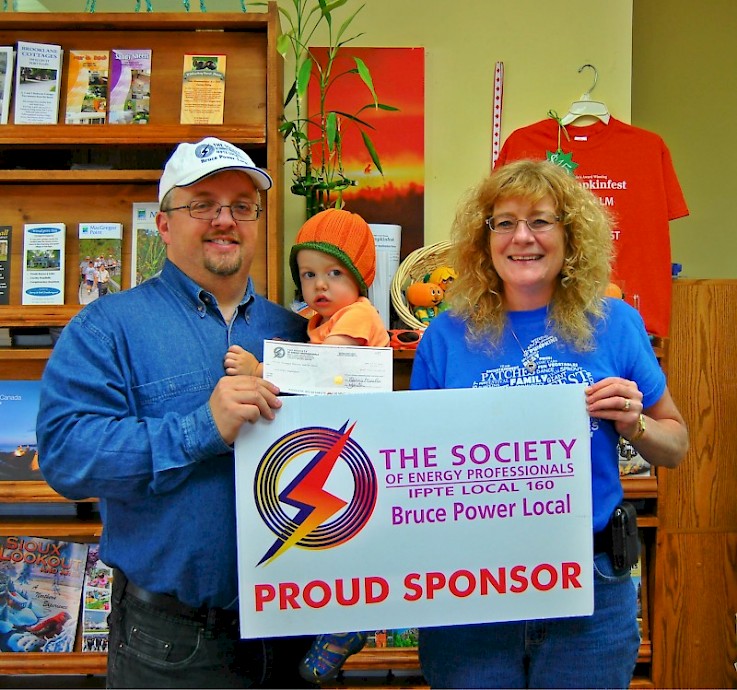 (Port Elgin) – On Thursday September 4, the Society of Energy Professionals (Bruce Power Local) presented a cheque in the amount of $5,000 to Sally Hunt, Pumpkinfest Coordinator. Presenting the cheque was Kevin Allin, a delegate of the organization, as well as his son Derek, who just can't wait for Pumpkinfest this year!
These funds are used to cover all costs associated with the squash category at the Bruce Power International Grower's Tent. Hunt stated that since the Society joined the Pumpkinfest family of sponsors in this capacity, there has been a marked increase in both the interest by the growers to grow the green giants as well as a rise in the number of entries at the event. "The current World Record Squash of 1486 pounds was weighed at Port Elgin Pumpkinfest in 2011, and this smashed the previous record by more than 200 pounds. I think the injection of more prize money for the squash growers as a direct result of this partnership between the festival and the Society of Energy Professionals, is responsible for the increased interest in growing giant squash world wide". "We are so lucky in Saugeen Shores to have such community minded organizations help to keep our weigh-off tent competitive on a World Class scale. "
If you would like more information on how to become a giant vegetable grower, information can be found on both Port Elgin Pumpkinfest's website (www.pumpkinfest.org) as well as the Giant Vegetable Grower's on Ontario website (www.gvgo.ca).
return to news
---