Pumpkinfest Moves Downtown - Back To It's Roots
September 19, 2016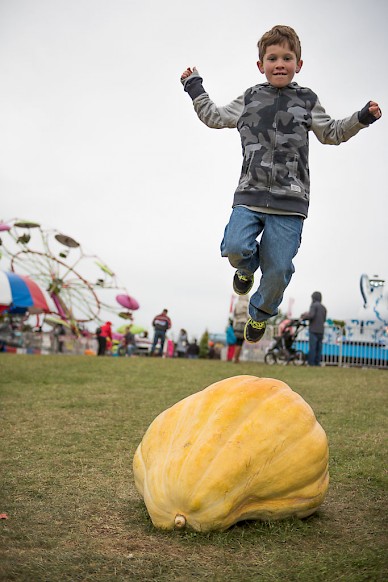 Story via Saugeen Shores Hub Staff
The new downtown location for Port Elgin's Pumpkinfest, October 1 and 2, has inspired new events and activities from community members that organizers hope will instil new memories and traditions for the October festival, now celebrating its 30th year.
A Haunted House made possible by Bruce County Playhouse will be located in the basement of Maple Hall, which is now part of Pumpkinfest Village. The Missionary Church will be home to the Giant Vegetable weight-off as well as play host to the Shoreline Artists who will have their work displayed inside.
Pending approval from Saugeen Shores Council, from the late hours of Friday, September 30 until Sunday night, October 2, areas of Mill Street to Gustavus Street and Hilker Street to the edge of Goderich Street, will be closed to those who have not purchased admission. However, Green Street to Bricker Street will be opened during the evenings after 6 p.m., to allow traffic to and from Allan's Fireside Grill and the Port Elgin Legion. Only one residence will be affected by the closure, and the homeowners have signed-off with their approval.
The festival will kick-off on Friday, September 30, with the annual PubKin Crawl, with transportation provided by Grey Bruce Airbus. Establishments involved in the Crawl are: The Wismer House, Duffy's, Queen's Bar & Grill, Boston Pizza and Chuck's Roadhouse Bar and Grill. Tickets are $5 and will also act as admission to the two day festival.
Admission to Pumpkinfest Village will be $5 for anyone over the age of 5, down from $10 per adult in previous years. Children 5 and under are free. And as in previous years, admission to the Cinderella's Classic Car Show will remain free for all those who wish to attend.
Mandy Sebok of Pumpkinfest said in a September 10 interview that growers and vendors are excited to be closer to downtown.
"By eliminating the disconnect between the Cinderella's Classic Car Show and Pumpkinfest Village (formerly located at Saugeen District Secondary School) it has appealed to many of our vendors, growers and volunteers. Everyone has been very excited to see how these changes will allow for visitors to take in all components of the Festival, in a one stop location," Sebok said.
More events and activities are being finalized and will be announced closer to the Festival but Sebok said she is most exited to see the dedicated growers after a long year. "It is their efforts that really bring Pumpkinfest to life, every year the anticipation of the weigh-in and the friendly competition is really the best part of what we do."
Tickets for the PubKin Crawl will be sold at participating establishments as well as at Pumpkinfest Headquarters, the Port Elgin Visitor Centre on Goderich Street.
T-shirts and sweaters commemorating the Festival's 30th anniversary can be purchased online at ironpromotions.com or at the Festival.
return to news
---