Pumpkinfest Gives Back
December 4, 2020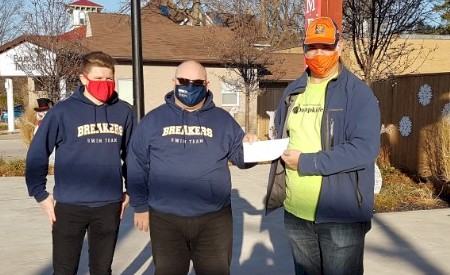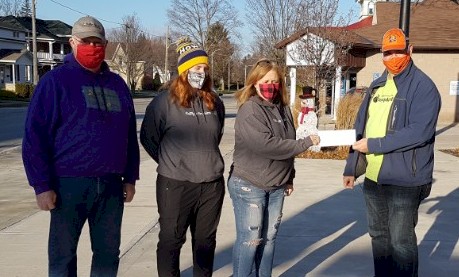 Pumpkinfest is proud to announce that we have tallied the donations made at the on-line event in October and have split the donated funds between long time supporters, Breakers Swim Team and The Cobean Crusaders (Tara Boom Childrens Foundation). Pictured above Dave Mensher, President, presents both groups with the cheques.
Pumpkinfest has traditinally supplied a venue to support over 35 local non profit groups with their fundraising efforts, whether contracting them to do much needed jobs, such as working the gates, or allowing them free space to sell products or food for their varius good works. The virtual festival in 2020 was a very different event that didn't allow for the traditional fundraising efforts for some of these groups, so the Pumpkinfest committee decided to add an option to donate throughout the live event. We want to thank everyone that pushed that "donate" button to support our local non-profits!
We also want to congratulate the Port Elgin Lions Club for supporting many of these local organizations through the proceeds from the Pumpkinfest Mega Bingo, and the Port Elgin Rotary Club who supported the Hospice with their Pumpkin Pie sales.
Port Elgn Pumpkinfest, entering it's 35th year, is already planning for the 2021 festival that takes place the weekend before thanksgiving!
return to news
---