Pumpkinfest Announces its 2014 Volunteer Committee
February 13, 2014
The Port Elgin Pumpkinfest Volunteer Committee held its first organizational meeting for the 2014 festival on February 10th. As well as some familiar faces which have been helping to plan the festival for many years, the committee is encouraged by the amount of new people that have come forward to help plan one of Ontario's Top 100 Festivals and Events as well as one of the largest festivals in Grey and Bruce Counties.
Sally Hunt, Pumpkinfest Coordinator said she is very excited and enthusiastic about the new group of planners and sees big changes to come with the 2014 event. "We are really going to focus on a local festival feel this year, right down to site decoration", said Hunt. New decorating contests are planned to have all vendors bring the harvest theme to the festival with their booths at the event. "Over the years, we've kind of lost the feel of what it's all about – pumpkins! I can guarantee you that this year when you walk around the event grounds you are going to be sure to know this is a festival about pumpkins".
A new culinary attraction is being planned which will highlight local food producers and suppliers. This attraction will be situated at the front of the event in the curling club parking lot with lots of children's activities surrounding this new feature. It is important to the organizers that the festival visitor knows there is local food available and that there are free activities for the kids.
"We are just in the planning stages of this new attraction but we ask all 'foodies' that may want to help with the organization of this exciting new culinary attraction to contact us and/or join our volunteer committee – the more local people and businesses involved, the more we can build something that our community is proud of", said Hunt. Besides a Special Attraction Director to spearhead this new area, the Committee is also looking for a Weigh-off Tent Director and an Educational Outreach Coordinator to help teach locals about growing giant vegetables. "The more people we can get interested in growing giant vegetables in Grey and Bruce Counties the better – we'd rather see the prize money being awarded to our local growers than sending it outside of the region", said Hunt. There are also spots available on the committee as First Year Directors and Directors at Large. If you are interested in joining the Pumpkinfest Volunteer Committee please contact Pumpkinfest Headquarters at 519-389-3714.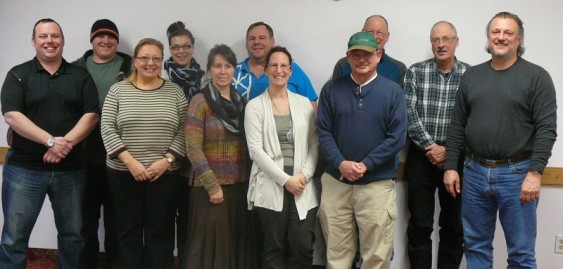 2014 Volunteer Committee: (from left to right) Chris Wilkie, Kim Coulter, Lisa Billing, Della Spencer, John Kirkham, Nina McMeekin, Doug Court, Earl Anderson, Ron Knight and Pier Donnini. Absent: Rachelle MacKenzie, Terry Ford, Connie Barker and Kaitlyn Shular
return to news
---