Port Elgin Pumpkinfest Recognized at Festival & Events Ontario Summit!
March 2, 2021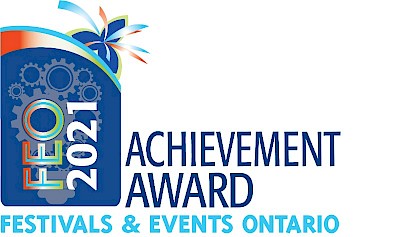 The Pumpkinfest Team is extremely proud to receive a FEO (Festival and Events Ontario) Achievement Award for the 2020 event at the recent FEO Summit! The criteria for FEO Achievement Awards were specifically for events that were able to Adapt - Pivot - Evolve in these challenging times.
"When we read the criteria for the 2020 awards submission, all three of the criteria words certainly hit home for Pumpkinfest 2020!" states coordinator Joanne Robbins. "I am immensely proud of the whole Pumpkinfest Team, friends and sponsors, who saw the value in moving forward through a COVID-19 challenging year. This award belongs to all of us."
The submission elaborated on Pumpkinfest's innovations to stage the 2020 event including:
The Bruce Power International Weigh Off was a live webcast event, with growers able to weigh their vegetables at an Official Weigh Off Site, and the public able to watch it all live in real time.
The traditional OPG Environmental Tent was transformed into "the OPG Pumpkin Pack Wednesdays" – a drive through pick up event held the three weeks before the festival giving recipients much appreciated bag of interactive fun family themed experiences done in the safety of their own home.
The OLG Cinderella's Carriage Virtual Car Show page on our website had over 350 attendees or "uploaders". Most included a story about their vehicle and its history that was a great hit with enthusiasts and gave us great content on our social media channels.
Bruce Telecom Harvest Star Search Talent Show and other harvest activities encouraged the public to upload photos and videos to our website that we could use throughout the live webcast and showcase all year long.
Adapt - Pivot - Evolve. These aren't just buzz words; they are strong pillars for the event industry as we move from 2020 into the new year. 2021 will bring challenges as well, but the Pumpkinfest Team is ready!
To see all the great uploaded pictures and videos visit www.pumpkinfest.org
To see the full taped event please visit: https://www.youtube.com/watch?v=UyMYVy5j12w
REAL FUN. VIRTUALLY DELIVERED. PUMPKINFEST
return to news
---