Festivals and Events Ontario recognizes Port Elgin Pumpkinfest!
April 11, 2022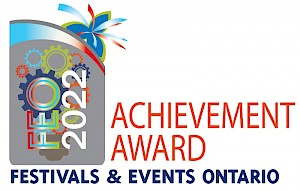 April 11, 2022 - Port Elgin.
Port Elgin Pumpkinfest is very pleased to announce that it is the recipient of a 2022 FE0 (Festival & Events Ontario) Achievement Award. Our "Best of Both Worlds" event in 2021 was a win for the whole community.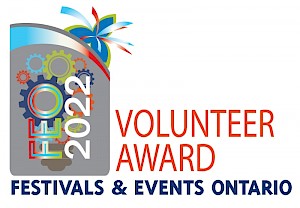 Even more exciting this year is that our own Connie Barker is the recipient of the coveted FEO Volunteer of the Year Award. Announcements were made at the recent virtual FEO Conference.
FEO states "The dedication it requires to successfully organize and execute some of the best festivals and events in the world takes more than great ideas and collaboration; it takes rolling up your sleeves, digging deep into the community for support, and rounding up volunteers to make it a success!"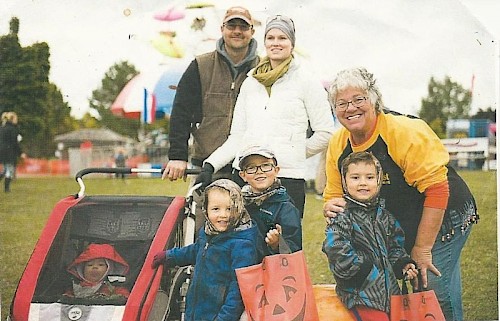 Connie Barker is well deserving of recognition for her long-standing and undying commitment to Port Elgin Pumpkinfest. Connie has been involved since the very first Port Elgin Pumpkinfest 35 years ago, and since that time has been paramount in the growth and maintainance of this event. Connie is the volunteer that says "Why not?" instead of "We can't." From ideas like underwater pumpkin carving, kids pajama parties to the pet show on Sundays - Connie helps to bring these ideas to fruition to great success and always plays a supportive role. Connie is not just a "weekend warrior", but attends all planning and logistical meetings - her input is very valuable, as her history allows her to give the team unique insights into the past, present and future of the festival. In her history with the event she has held almost every job or committee lead we have created. From Secretary to Vendor Director to Logistics of the weigh off - she has done it all, always with a smile and a laugh. She is one of those volunteers that needs no direction and jumps in to help in any capacity - from picking up garbage, to handling the vendor concers, she does it all.
Connie maintains a great relationship with all the volunteers and helps recruit all year long! She has recruited volunteers that were students, and have stayed on to be chairpersons and even presidents. Connie has mentored every staff person throughout the last 35 years and is the first to step up should they need assistance.
Connie's family also joins her in many capacities on the weekend - from delivering food to volunteers to helping put up fencing, the Barker Family is there for us.
We are proud to work with such an enthusiastic volunteer and look forward to continuing our work with Connie!
The theme for the 2022 FEO Conference was "ENERGIZE" with the key words RECONNECT . REIMAGINE . REFOCUS. All speakers, education sessions, networking opportunities etc were geared towards building our festival and event industry back to where it was before the Pandemic and using what we have learned over the last two tears to improve user experiences, streamline operations and present a safe event for our customers.
We wish to congratulate Owen Sound for recognition of their Harbour Nights and Music at the Market events. You can see all the award winners at: https://www.festivalsandeventsontario.ca/about/feo-award-recipients.
return to news
---
Comments (1)
Posted by Mary Zaba on 04/23/22 1:15pm