Giant Vegetables October 3, 2020
We are proud to announce this year's event will be presented as a web-based live streaming broadcast that continues to feature our famous Bruce Power International Giant Vegetable Weigh-Off!
We are happy to be able to give our growers the opportunity to record their measurements at an Official Giant Pumpkin Commonwealth site in 2020, and promise the live web broadcast will be a real community celebration.
As our first priority is the safety of all; there will be no public attendance and social distancing measures will be striclty adhered to by our volunteers and growers.
We encourage all to watch it live on our website October 3, and join in the various decorating and on-line activities. Additional events have been added, so watch our website and social media feeds for news!
2019 Weigh-Off Special Awards
Master Grower - Todd Kline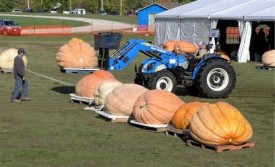 2018 Weigh-Off Special Awards
Master Grower - Todd Kline
2017 Weigh-Off Special Awards
Best Average - for pumpkins and squash entered both Saturday and Sunday - Won by Paul Dettweiler
Junior Growers - First place: Lexi Twelves, Second place: Braeden Ashton
Novice Grower - won by Lexi Twelves
Master Grower - won by Douglas Court
Hidden Weight - Prize Sponsored by Little's Furniture - La-Z-Boy Rocker Recliner
The Fred Weurth, Tri-County Growers Award
First place: Bob MacKenzie
Second place: Peter Mathonia
Third Place: Douglas Court