Welcome to Pumpkinfest
Honourable Mayor Luke Charbonneau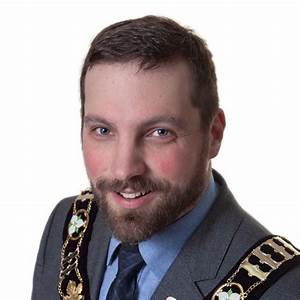 It is with great pleasure that I welcome you and your family to Port Elgin Pumpkinfest on behalf of the citizens of Saugeen Shores.
2019 marks the 33rd anniversary of the festival which has become one of Ontario's top events, winning numerous awards. Garnering worldwide attention for its world record-setting giant vegetables and large classic car show, Port Elgin Pumpkinfest attracts crowds of up to 40,000 over the two days and generates an economic impact of close to $5 million in the region.
Congratulations to the organizing committee and especially to the volunteers, whose tireless dedication make this community event so successful. Your hard work and devotion is greatly appreciated. A special thank you goes out to the generous businesses who are involved in the festival in a sponsorship capacity.
To our visitors: we hope you will have a pleasant experience in Saugeen Shores. Please enjoy all that Port Elgin Pumpkinfest has to offer- from giant vegetables to fantastic family entertainment at Pumpkinfest Village and Cinderella's Carriage Classic Car Show in downtown Port Elgin.
See you at Pumpkinfest!
Saugeen Shores Mayor
Luke Charbonneau
---
From the Pumpkinfest President:
Brad Scott
On behalf of the Pumpkinfest Board of Directors I'd like to wish you a GIANT Welcome to Pumpkinfest 2019!
After months of planning and organizing we're delighted this special weekend jammed with family fun opportunities is here once again. To our local community and our first time and returning visitors we invite you to take in everything this year's festival has to offer. Grab a seat to watch the vegetable weigh-off – the excitement as those giants are maneuvered to the scales is not to be missed. Meander through the streets of our downtown taking in one of Ontario's largest 2 day outdoor car shows: Cinderella's Carriage Car Show, Celebrating it's 25th Anniversary this year, sponsored by OLG.
Did you know that Port Elgin Pumpkinfest started out as a Weigh-Off only in Coulter Parkette on the corner of Goderich and Green Streets in Downtown Port Elgin!? Well it's true!
Come celebrate our 33rd Anniversary in our Downtown Core!! See the Weigh-Off inside the Missionary Church – we expect to break the 2,000 LB mark this year; listen to our local talent in the Bruce Telecom Entertainment Tent, visit the Craft Show and Eastlink Marketplace in the Port Elgin Missionary Church and the Municipal Lots behind the Queens. Check out the Carnival Rides across from the Missionary Church and of course make sure to visit all of our LOCAL vendors and restaurants to see what great things they have in store for you as you meander through the NEW, BIGGER than EVER Pumpkinfest Village! OPG's Environmental Tent will once again feature interactive learning from Mad Science.
What's new this year? We've enhanced our Agricultural Experience in the Brokerlink Agricultural Experience Tent and area. See the farm animals petting zoo and learn about our heritage in this interactive area. The fun keeps going Saturday night with our 2nd Annual PJ party at the Missionary Church featuring a ventriloquist show with Tim the Puppet Tamer, and fun activities starting at 6:30. Port Elgin Rotary will be the Official Supplier of Pumpkin Pie!! Stop by their booth to get your piece of heaven with a hint of pumpkin. Need some refreshments? Then stop on by the Bruce Telecom Entertainment Tent and try out our local craft beer – the Official Beer of Pumpkinfest from Outlaw Brewery. Enjoy some food from one of our AMAZING food vendors stick around throughout the day and come back later to rock the night away with Ontario's Top Tragically Hip Tribute Band – The Practically Hip!
Port Elgin Pumpkinfest, consistently one of Ontario's Top 100 Events, is truly a community event. It takes the contributions of a wonderful team of staff, generous donations from sponsors, our hardworking and dedicated volunteers and a HUGE amount of community support to make this event a success. To each individual and group involved I say thank you, we truly couldn't do it without you.
Whether this is your first or 33rd time attending Port Elgin's award-winning festival, we invite you enjoy the weekend. You're sure to come away with enough good memories to fill a giant pumpkin.
See you in the streets!
Brad Scott
President, Pumpkinfest 2019