Pumpkin Pack Wednesday's & Pumpkin Carving Contest!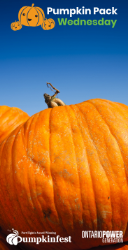 Unleash your creativity, join in the pumpkin carving contest and learn about biodiversity in your backyard with this curbside pickup activity program! Through our resolve and resilience as Ontarians, together we will #PowerON.
Amid these challenging times, Pumpkinfest and OPG are pleased to offer a curbside pickup program in Bruce County. Families can pickup a FREE Pumpkin Pack filled with fun and educational activities children can do from the safety of home.
The program runs on Wednesdays prior to October 3rd. Each weeks' Pumpkin pack will feature a different community partner and activity.
Do not miss the fun, as quantities are limited!
Where: Hi-Berry Farm, 5639 Highway 21, North of Port Elgin
When: September 16, 23, or 30th, from 3 p.m. – 5 p.m.
Inside the Pumpkin Packs:
All the packs will contain: From Pumpkinfest, pumpkin themed activities with instructions on how to submit your carved pumpkin into the contest and from Ontario Power Generation, Flower seeds and information on how to attract Bees to your garden.
Week One Features; MacGregor Provincial Park's Discovery Activity Book it is an adventure in a booklet! Use it to get outside with your family and explore nature. Filled with scavenger hunts, nature facts, magnifying glass and fun activities – this is a great resource to learn more about the exciting ecosystems all around you!
Week Two Features; Saugeen Valley Conservation's activities that are geared to the great outdoors! Their package will include: Nature Bingo, a young spruce seedling that you can plant in your own yard! And, materials to make your own bird feeder!
Week Three Features; Historic Saugeen Metis' build a canoe craft!
Hi-Berry Farm – North of Port Elgin, after Grocery store/gas station - on the West side of road
CARVING CONTEST:
The deadline to submit a photo of your carved pumpkin to is 2 p.m. on Friday, October 2, and winner(s) will be announced on Oct. 3. SUBMIT YOUR PHOTO HERE Prize categories are children, up to 12 years old; teens 13-19, and Family. Judging by the sponsor. **There are no costs and all ages are invited to submit. With your permission,photos will be showcased to the public on our website and the winners will be spotlighted in our professional production taking place on October 3, 2020.
Together we will #PowerON

Back to Attractions