Volunteers
"Volunteers do not necessarily have the time; they just have the heart."--Elizabeth Andrew
BECOMING AN EVENT VOLUNTEER AT PORT ELGIN PUMPKINFEST
Volunteers play an important role at Port Elgin Pumpkinfest. Each year, well over 200 volunteers are recruited to help in all aspects of the festival from pumpkin carving to car show parking. Volunteering for Pumpkinfest is a great way to get involved in the event and see it from a whole new perspective! Get a group together and come be a part of Port Elgin's biggest event!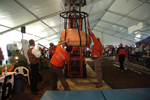 To join the team of volunteers it takes to run Port Elgin Pumpkinfest please contact Pumpkinfest Headquarters at 519-389-3714.
Volunteer applications will be made available online soon in 2019.
---