Volunteers
"Volunteers do not necessarily have the time; they just have the heart."--Elizabeth Andrew
BECOMING AN EVENT VOLUNTEER AT PORT ELGIN PUMPKINFEST
Volunteers play an important role at Port Elgin Pumpkinfest. Each year, well over 200 volunteers are recruited to help in all aspects of the festival from pumpkin carving to car show parking. Volunteering for Pumpkinfest is a great way to get involved in the event and see it from a whole new perspective! Get a group together and come be a part of Port Elgin's biggest event!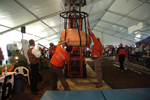 To join the team of volunteers it takes to run Port Elgin Pumpkinfest please contact Pumpkinfest Headquarters at 519-389-3714.
You can also fill out an volunteer application for Pumpkinfest 2017 by just clicking on this link. Volunteer Application
---
VOLUNTEER BOARD OF DIRECTORS
Port Elgin Pumpkinfest's Volunteer Board of Directors meets throughout the year and assists the staff in the overall planning of the festival.
Slate of Directors for 2017:
Executive Committee: Chairperson--Brad Scott, Vice-Chairperson-- Season Neill, Saugeen Shores Chamber of Commerce Representatives -- Jocelyn Robbins & Pier Donnini, Treasurer--Rachelle MacKenzie, Secretary-- Kristen Simmons
Car Show Committee: Car Show Director--Dan Neill, Car Show Vice Chair -- Sharon Shular, Corvette Corral Director--Ron Knight, Car Show Vendor Director - vacant
Weigh-Off Committee: Weigh-Off Tent Director -- John Kirkham, Growers Development/Rep -- Doug Court, Educational Outreach Rep -- vacant
Logistics Committee: Vendor Director--Connie Barker, Safety/Site Director--Brad Scott, Transportation Director - Della Spencer, Special Attractions Director -- vacant
Public Relations Committee: Volunteer/Non-Profit Director - Season Neill, Entertainment Director - vacant, Decorating Director -- vacant, Director at Large - Chris Wilkie, 1st Year Director/Chamber Rep - Jocelyn Robbins