8th Round of Pumpkinfest Pub-Kin Crawl
Come out and start your Friday night in Saugeen Shores with the 8th round of the Pumpkinfest Pub-Kin Crawl.
Proudly sponsored by:


Be smart and use our shuttle buses as local licensed establishments provide great food, entertainment and drink specials to kick off Pumpkinfest weekend! Buses run from 7:30 pm until 2:30 am. Wristbands are required to ride the buses and cost only $5!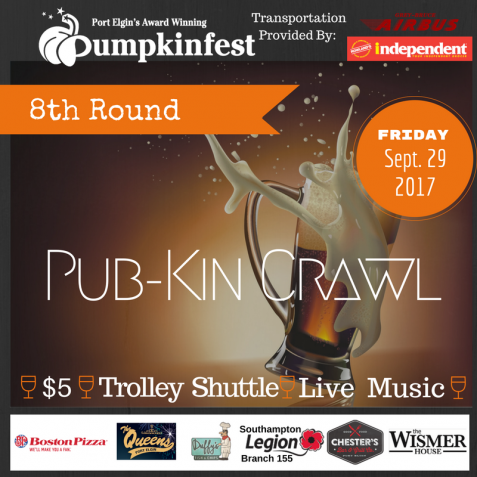 Participating Venues to Come
Shuttle buses will stop at:
Giant Tiger Parking Lot
Corner of Gustavus and Goderich Streets
Corner of Elgin and Goderich Streets
Corner of High and Grosvenor Streets in Southampton
Shuttle bus wristbands can be purchased at:
Saugeen Shores Chamber of Commerce/Pumpkinfest Headquaters
Trolley Shuttle the night of event
Cheers to another great year!
Back to Attractions